What is Preconcerto?
Preditec/IRM has created the cloud platform that revolutionizes plant assets state management.
Preconcerto is a high value-added service offered as SaaS (Software as a Service) for managing PdM information generated by predictive techniques and helps to implement predictive maintenance strategy faster and more efficient. Essentially Preconcerto converts existing data in different formats and from multiple technologies into valuable information for the maintenance scheduler
Preconcerto in four steps
Preconcerto converts data into information, reducing management costs and improving return on investment, all without high investments in costly hardware or software.
Platform design, including the latest 'cloud computing' technology guarantees platform evolution and facilitates integration with other information systems.
Its function is twofold:it is a tool to improve the analyst reporting productivity and moreover it is an information platform for plant maintenance managers.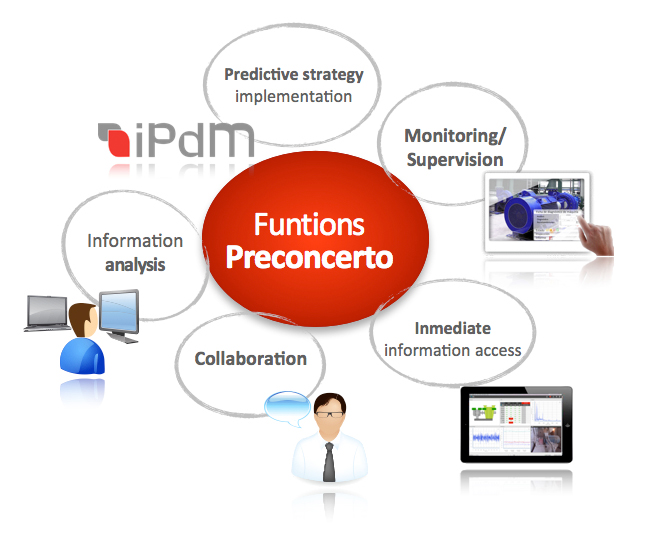 Monitoring/Supervision
Plant assets condition/li>
Predictive inspection routes control
Diagnosis failure detected cases, until repaired
Completed repair works verification
Evaluation of improvement on process or machine design
Inmediate information access
Diagnostic reports of those assets with failures detected
Instant general condition assets reports after predictive inspection routes
Collaboration
User comments on diagnostic files to help the analyst to get more accurate diagnoses
Information analysis
Historical analysis of the different failure modes of the assets
Study of electric motors efficiency
Machinery performance supervision, by analyzing type and rate of failures
Comparison of different lubricants efficiency
Predictive strategy implementation
Service implementation and operation in record time
Improved base line generation in comissioning activities and start-up
Modification of preventive maintenance plans can only be achieved with quality information that creates the confidence
to make decisions about lengthen or shorten the time allowed by the Preventive Plan
Esta entrada también está disponible en: Spanish